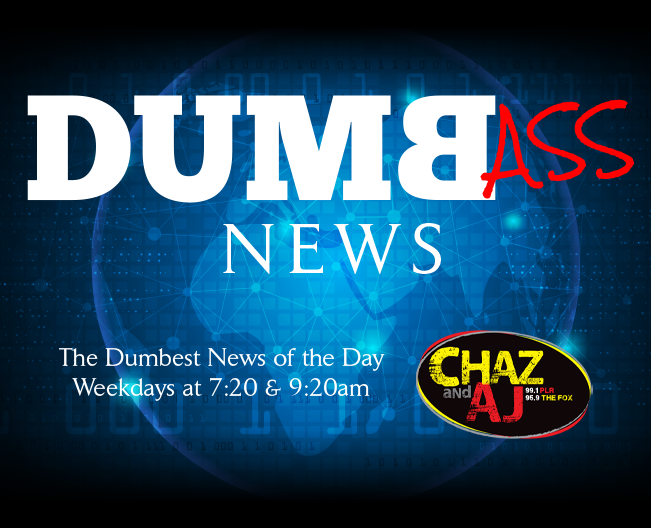 Every hour of every day, someone does something dumb. Listen to Chaz and AJ each morning at 7:20 & 9:20am as they highlight the best and dumbest!
Every day, Chaz presents a story. AJ, Phil and Ashley will decide if it's worth discussing. Think you have a dumb enough story? Submit it here.
Kidnapping and rape suspect in Ohio tries to jump out 6th floor hotel window but bounces off the glass!
Watch the video HERE.
Florida 'Teacher of the Year' arrested for hitting pupil who criticized award
A Florida educator was busted for child abuse two days after being named Teacher of the Year — for allegedly hitting a student who criticized her getting the award, according to police. Get the full story HERE.
Man with 'world's biggest penis' tells how he was stopped by airport security to check his 'unusual bulge'
The incident took place back in 2012 when guards from Transport Security Administration at San Francisco International Airport became suspicious about his package, fearing he might have hidden something down his trousers and proceeded to a thorough body search. Get the full story HERE.
Woman blows out giant 'booger' 20 years after childhood bead-stuffing incident
A Georgia woman was shocked that a huge "booger" in her nose was actually a bead that had been lodged there for two decades. Get the full story HERE.
Woman Becomes Enraged by 'Sad' Song Playing at Grocery Store, Gets Arrested Twice
A shopper so incensed by a "sad" song playing a store caused a scene that required police intervention to resolve. Get the full story HERE.
Ontario man calls 911 because he's stuck in traffic and has to go pee
A police force in Ontario has released 911 audio after a man called the emergency line to report he had to go pee while stuck in traffic. Get the full story HERE.
Woman Busted Smuggling Fentanyl In Her Vagina At Texas-Mexico Border
Within 48 hours of each other, U.S. Customs and Border Protection officers working at the El Paso area ports of entry busted a woman smuggling fentanyl in her vagina and a man who had hidden the powerful narcotic in his groin area. Get the full story HERE.
Rooster attacks man on Queens street
A Queens man is speaking out after being attacked on his way to work, not by a person, a dog, or even a rat, but by an angry rooster. Get the full story HERE.
In Japan, man diagnosed with 'restless anal syndrome' after recovery from Covid-19
In what is possibly the first such case of a post-Covid complication, a 77-year-old man in Japan reported "deep anal discomfort" just days after recovering from the coronavirus disease (Covid-19). Get the full story HERE.
UK fuel shortage: Man on horse taunts drivers queuing for petrol
A British man has gone viral after taking advantage of the UK's fuel crisis to mock drivers queuing for petrol. Get the full story HERE.
Stonington police issue mink warning
A warning about minks was issued to people living in Stonington. Police sent out the "nuisance wildlife awareness notice" on Wednesday. Get the full story HERE.
Galveston lawyer stopped, cited after scary stroll on seawall beach
Police stopped a Galveston man dressed up as a horror movie character on a storm-swept beach Monday after someone called 911 about the creepy sight. Get the full story HERE.
New Zealand cinema's expletive-laden voicemail gets rave reviews
An expletive-ridden voicemail recording, accidentally uploaded by a New Zealand cinema, is giving the nation a dose of cheer as it races to stamp out an outbreak of coronavirus. Get the full story HERE.
Delco Cheesesteak Shop Owner Survives Knife Through His Neck
A Delaware County cheesesteak shop owner survived after an employee stabbed him through the neck during a brutal attack that was captured on surveillance video. Get the full story HERE.
'Spread your legs': NZ COVID-19 minister's gaffe brings laughs amid crisis
New Zealand's COVID-19 response minister, Chris Hipkins, put his foot in his mouth during a press conference on Sunday, telling citizens of the country to social distance when they go outside and "spread their legs" amid the pandemic. Get the full story HERE.
Joyriding man chained to top of Escalade in latest viral Detroit freeway video
Video of a man chained to the top of a car, appearing to joyride on the Lodge freeway caught fire online. Lonnie Webster, a barber on Detroit's west side saw it happen Monday night. Get the full story HERE.
Hilarious moment family freaks out in drive-thru safari
This is the hilarious moment a family was scared by some camels while driving through the Gone Wild Safari in Louisiana back in July. Watch the video HERE.
Factory worker, 27, gets 1.8cm-long nail removed from his scrotum after accidentally shooting himself with a nail gun
When doctors first looked at his scrotum, they could not see any sign of the nail — despite him being in obvious agony. Get the full story HERE.
Watch a reporter's surprise when he sees a truck behind him has rolled into a lake
While an Illinois reporter for WICS Channel 20 stood in front of Lake Springfield, talking about drought conditions, a white pickup truck was rolling toward the water. Get the full story HERE.
Brave little dog tries to protect 10-year-old girl from coyote attack
Lily Kwan said she was walking her 6-year-old Yorkshire terrier, named Macy, in their Toronto neighborhood Tuesday morning when a coyote started chasing them. Get the full story HERE.
Car drives over Target ball in Holly Springs
Michelle Wright, 49, from Holly Springs was charged with driving while impaired and careless and reckless driving in connection to the crash. Get the full story HERE.
Police catch 'serial pooper' after wrong woman gets a bum rap in Indiana
A small-town jogger is in it deep after being accused in a serial public defecation case, according to police in Fishers, Ind. Get the full story HERE.
Super Furry Animals share isolated audio of Paul McCartney chewing celery
McCartney agreed to provide 'carrot and celery' percussion to 'Receptacle For The Respectable', and the recording is now available in its fully glory and on its own. Get the full story HERE.
Naked woman gets stuck between two buildings in California
The unidentified woman is seen in news footage lying on the ground — squeezed into a space about eight inches wide between industrial buildings in the city of Santa Ana. Get the full story HERE.
Car Comes Flying From Nearby Overpass
Watch the video HERE.
"Firecracker!" – Cape Coral man wakes neighbors by screaming & pretending to be a firework
A man protesting pyrotechnics was caught on a Cape Coral security system screaming around at 3 AM on Friday morning. Get the full story HERE.
Firefighters rescue teen trapped in dressing room on Long Island
Giavanna Diesso, of Smithtown, got stuck in the dressing room at Kate & Hale clothing store on Main Street in Port Jefferson Village on Tuesday afternoon. She was shopping with her mother and friends. Get the full story HERE.
Nebraska man makes 60 naked skydiving jumps in 24 hours
A Nebraska man set a new world record by completing 60 skydiving jumps in 24 hours while dressed in nothing but his safety equipment. Get the full story HERE.
"Take On Me" Performed By Hitting Myself In The Face
When you have a song stuck in your head, you just need to beat it out. Watch the video HERE.
Westminster Dog Show Trainer Wipes Out In Front Of Ripple The Dog
Ripple's trainer John stumbled mid-run and blocked Ripple's path at the Westminster Kennel Club Dog Show. Watch the video HERE.
A Woman Who Got Stuck In A Chair While Making Fetish Content Had To Be Freed With The Jaws Of Life
"I've done dozens of videos, and I've had times before where I've panicked and thought that I couldn't get out of something, but I've always pushed myself through it, no matter how bad it hurts." Get the full story HERE.
Las Vegas woman crushes 3 watermelons in 7 1/2 seconds for world record
A Nevada body builder crushed a world record when she used her thighs to smash three watermelons in under 8 seconds. Get the full story HERE.
Man Dressed As Superman Gets Hit By Bus While Pretending To Stop It
A comedian dressed as Superman narrowly escaped serious injury after being hit by a bus while pretending to stop it in motion in the street. Get the full story HERE.
Boy, 7, Swims a Mile to Save Dad and Sister Stuck in River: 'By the Grace of God, We're Here'
A 7-year-old boy saved his father and younger sister by swimming a mile to get help after a boating accident over Memorial Day weekend. Get the full story HERE.
A group of bears crashed a high school pool party
A pool party in Tennessee was interrupted when a group of bears decided to join in on the celebration and go for a swim. Get the full story HERE.
Akon's Car Stolen, 911 Operator Corrects Him Multiple Times
TMZ has obtained the audio of Akon's call to Atlanta PD late Monday night — where he says his Range Rover got jacked from him at a gas station … while he was pumping. Get the full story HERE.
Woman buys house and finds previous owner used Jenga Blocks for home repairs
The woman made the discovery after noticing her toilet roll holder was loose, so she had a fiddle and the whole thing came out the wall attached to two Jenga blocks. Get the full story HERE.
Gillette's new jingle tackles pubic hair stigma
A new ad by Gillette Venus which features a singing, dancing curly strand is encouraging women to take pride in their pubis — whether shaved or not. Get the full story HERE.
Wild boar surround woman near Rome and steal food shopping
Italian farmers have protested in recent years about soaring wild boar population wreaking havoc on crops. Get the full story HERE.
Man Locks His Head In Cage In Attempt To Stop Smoking
Ibrahim Yücel from Kütahya in Turkey had been smoking for over two decades when he was locked up and prevented from physically putting a cigarette in his mouth. Get the full story HERE.
Teacher Arrested for Allegedly Spraying Students With Disinfectant Over Incorrect Mask Use
A Florida teacher was hit with charges for allegedly spraying students with disinfectant for not properly wearing their masks, the local NBC affiliate reports. Get the full story HERE.
1,000 feral cats released onto Chicago streets to tackle rat explosion
The Windy City has ranked No. 1 on pest control company Orkin's list of the "rattiest cities" in the U.S. for six consecutive years. Get the full story HERE.
OnlyFans mom goes viral on TikTok for shaving her legs with sandpaper
A 49-year-old mom, nurse and soft-core model — known digitally as "Jules" — is spiraling into viral video glory for teaching her more than 11,000 TikTok followers how to shave their legs with nothing but 600 grit sandpaper. Get the full story HERE.
Ohio state senator admits to driving with a fake background of his office during a Zoom call on the same day the legislature debated a bill penalizing distracted drivers
State Sen. Andrew Brenner was seen wearing a seatbelt and driving while his Zoom virtual background was a home office. Get the full story HERE.
People Are Eating Raw, Rotten Meat to Get High
People on the internet are forcing down chunks of rancid uncooked meat to chase down a euphoric high. Get the full story HERE.
2-year-old boy gets stuck in antique wooden barrel at grandparents' home
A 2-year-old Tennessee boy found himself over a barrel this past weekend. Well, make that more like in a barrel. Get the full story HERE.
Tennessee toddler freed from antique wooden barrel
Emergency crews from Portland and Sumner County were able to free a toddler who became trapped in a wooden barrel over the weekend. Get the full story HERE.
Shameless couple having sex in park in front of children admit 'I know we've f***ed up' when confronted by furious mum
During the clip, the woman approaches the couple and says "there's kids over there and you're having sex" before asking: "You think that's alright"? Get the full story HERE.
Revenge of the Elephants: animals trample rhino poacher to death in South African park
A suspected rhino poacher met his demise over the weekend at the Kruger National Park in South Africa when elephants trampled him to death. Get the full story HERE.
Drunk Men Inject Penises With Cream After Watching YouTube Enlargement Video
Two men who got drunk and injected their penises with cream in the hope it would make their genitals bigger were instead left with painful swelling, according to the doctors who treated them. Get the full story HERE.
Woman duped into thinking she was engaged to Prince Harry seeks legal action
An Indian lawyer was duped into believing that she was in a relationship with Prince Harry — and then attempted to seek legal action against the red-headed royal for breaking a supposed promise to marry her, a report said Tuesday. Get the full story HERE.
Louisiana woman arrested after refusing to return $1.2 million mistakenly put into her account
A former sheriff's dispatcher in a suburb of New Orleans has been arrested, accused of refusing to return more than $1.2 million that had been accidentally deposited into her brokerage account, authorities said. Get the full story HERE.
Man detained after he 'jumped into' MKE zoo's elephant enclosure
A man was detained by sheriff's officials and cited after he "jumped into" the elephant exhibit at the Milwaukee County Zoo Wednesday afternoon, April 7. Get the full story HERE.
Stillwater 10-year-old takes family minivan to buy Cheerios
This is the second time in a week that a 10-year-old in the metro area has absconded with a family vehicle. Get the full story HERE.
Waterloo man used riding mower as getaway vehicle in two crimes
A Waterloo man used a riding mower as a getaway vehicle after breaking into a garage, according to police. Get the full story HERE.
Elmo doll defiled by home inspector, filmed by nursery camera: cops
A Michigan home inspector was filmed molesting a stuffed version of Sesame Street character Elmo while on the job. Get the full story HERE.
Woman with the world's longest nails cuts them after nearly 30 years
The Texan who had the world's longest nails grown by a woman can finally open a door without fear after cutting them. Get the full story HERE.
'Mrs Sri Lanka' beauty queen injured in on-stage bust-up
The winner of a major Sri Lankan beauty prize has suffered head injuries after a brawl broke out on stage. Get the full story HERE.
Driver slams through front of Maryland Taco Bell during heated fight
An argument outside a Taco Bell in Maryland became a little too spicy when a driver plowed into a crowd of people — then crashed through a glass door into the restaurant, according to a video. Get the full story HERE.
'I spent $15,000': Man arrested at Disney resort in Florida after refusing temperature check
Body camera video showed the man refusing to leave Disney Springs in Orlando, arguing about how much he had spent and claiming to be a Disney stockholder. Get the full story HERE.
Man Charged With 'Molesting' Alligator After Alarming Image Circles the Internet
A photo posted to Facebook by South Carolina's Fripp Island Golf & Beach Resort is drawing attention online due to the dangerous, and strange, act it depicts. Get the full story HERE.
Tax preparer allegedly pulls gun on clients who had complaints about filings
A tax preparer in Houston faces multiple charges for allegedly pulling a gun on a customer and attacking another after they noticed issues with their tax returns. Get the full story HERE.
Man Goes On Rampage At Antelope Wingstop Over Botched Order
In a video captured by a witness, a man can be heard saying, "I don't want the food, I don't have time to wait on the food again, so now what do we do?" Get the full story HERE.
Surgical Residents Caught Playing The Price Is Right With People's Body Parts During Operations
Deadline reports that social media photos on Instagram have shown doctors playing a game segment called "Guess The Weight." Get the full story HERE.
Woman Assaults 13 Year Old Boy @ Mt. Snow, Vermont
The woman had allegedly gotten out of her skis to film her friend hit a rail and was physically obstructing it so others couldn't hit it while her friend took the lift up. Get the full story HERE.
Woman feels 'discriminated' over lack of meat-free meals at KFC
A woman says she felt "discriminated" after visiting a KFC store in Exeter and being told there were no meat-free options available. Get the full story HERE.
Mysterious odor caused by BB pellet stuck in teen's nose for 8 years
A teen who had experienced years of nasal congestion along with a mysterious "foul odor" when he blew his nose turned out to have a BB gun pellet lodged in his nose, which had been there for about eight years, according to a new report. Get the full story HERE.
Burglar busted thanks to Cheeto dust on her teeth: cops
A woman was busted for a home invasion in Oklahoma — thanks in part to "Cheeto dust" found in her teeth, authorities allege. Get the full story HERE.
Cat Attacks Pilot, Forcing Plane To Make Emergency Landing
A mid-air 'catastrophe' unfolded on Wednesday when a stowaway cat attacked a pilot, forcing him to make an emergency landing. Get the full story HERE.
Pastor tells women to look pretty or husbands will stray in sermon to Missouri church
A Missouri pastor is on leave after delivering a sermon telling women to lose weight and submit to the sexual desires of their husbands to keep them from straying. Get the full story HERE.
Pastor: I Don't Fart, I Heal
Get the full story HERE.
Man hospitalized with '3-day erection' after taking bull sex stimulant
A man in Mexico was hospitalized with an erection that lasted three days after taking a sexual stimulant "used for breeding bulls," La Republica reports. Get the full story HERE.
Woman says 'gust of wind' impregnated her an hour before birth
Indonesian police are investigating the case of a young woman who has claimed she became pregnant by a gust of wind and gave birth an hour later. Get the full story HERE.
Florida couple caught with stolen lamb in pants & purse full of seafood
A couple was caught allegedly stealing lamb and a variety of seafood from a Naples Costco by shoving it in their pants and purse. Get the full story HERE.
New Jersey Man Attempts to Clear Snow with Fire
Rather than use a snow blower, a snow shovel, or de-icing materials like salt, the Midland Park resident opted for something a little more extreme: gasoline and fire. Get the full story HERE.
Two Floridians attempted to get second doses of the Covid-19 vaccine by dressing as elderly women
Two women were caught trying to get second doses of the Covid-19 vaccine by dressing up as "grannies," the Director of the Florida Department of Health in Orange County said Thursday. Get the full story HERE.
Daughter of Lombardi Trophy designer wants apology from Tom Brady
Tom Brady's Lombardi Trophy boat throw that went viral Wednesday didn't go over well with one Fort Myers, Fla., woman, who said the toss was an insult to her family's legacy. Get the full story HERE.
Boy swallows 54 magnetic balls to see if he turns 'magnetic', undergoes live saving surgery
A 12-year-old boy from the UK nearly died after swallowing magnetic balls to see if he could become magnetic. Get the full story HERE.
YouTuber Shot and Killed While Attempting 'Prank' Robbery
A 20-year-old man was shot and killed in Nashville, Tennessee on Friday night in what police say was a YouTube video shoot gone wrong. Get the full story HERE.
Tessica Brown Is Reportedly Bound for Beverly Hills, Renowned Plastic Surgeon Set to Undo Gorilla Glued Hairdo
On Tuesday, Page Six reported that Lady Brown was set to travel from Louisiana to the City of Angels (that's Los Angeles) to see a man about a procedure in an effort to resolve her follicular affliction. Get the full story HERE.
Woman caught smuggling cacti into New Zealand by strapping them to her body
A woman was caught trying to smuggle almost 1,000 cacti and succulents into New Zealand by stuffing them in her stockings and strapping them to her body as she arrived from China. Get the full story HERE.
Woman who went viral for using Gorilla Glue in hair gets treatment at hospital
A Louisiana woman went viral last week for using Gorilla Glue in place of actual hairspray — before finally checking into the hospital on Saturday to get the hardened adhesive removed. Get the full story HERE.
Defendant Hits on Judge in Bail Hearing, Hilariously Strikes Out
Florida man turning on the charm with an attractive judge only to fall flat on his face. Get the full story HERE.
Travelers gobble down 30 kilograms of oranges to save on luggage fees
Get the full story HERE.
Dramatic Rescue Caught On Video After Stamford Police Say Truck Driving Recklessly Sinks In Water During Winter Storm
First responders struggled to save a driver and her passenger from an icy pond in the middle of the nor'easter. Get the full story HERE.
Amid snowstorm, truck falls into water at Cummings Park in Stamford
A truck fell into the harbor at Cummings Park on Monday afternoon after the driver was doing "doughnuts" in the fresh snow in the parking lot, according to Stamford Police. Get the full story HERE.
Neighbor's request for cup of salt turns into hostage situation
Gunman told 99-year-old neighbor he wanted $50,000. Get the full story HERE.
Video shows Albuquerque man pointing gun at McDonald's worker over order
The niceties exchanged in the McDonald's drive-thru did not last long; Surveillance video from the McDonald's near 98th and Central earlier this month shows 25-year-old Estevan Gonzalez pull up and first tell an employee his burger didn't have cheese. Get the full story HERE.
Madame Tussauds honors talk show legend Larry King
Madame Tussauds New York has moved their Larry King wax figure to the front lobby and is inviting people to write remembrances of the broadcasting legend in a condolences book. Get the full story HERE.
15 people catch COVID-19 after reportedly attending cat's birthday party
The birthday kitty did not contract the disease. Get the full story HERE.
Senior citizens waiting for COVID-19 vaccine mistaken for 'illegal rave'
Cops rushed to a venue in England to break up what they thought was an illegal rave — only to discover it was a crowd of elderly folks waiting to get a coronavirus vaccine, according to reports. Get the full story HERE.
Texas man busted for stealing lingerie and sex toys: cops
A Texas man was busted for allegedly shoplifting $1,100 worth of lingerie and sex toys from an adult store, cops said. Get the full story HERE.
Cops: Couple Tangled Over Testicle Jibe
Curtis McCoy, 46, and his husband of 10 years got into an argument late Sunday evening that "escalated since they have been drinking alcohol." Get the full story HERE.
Imperial March on a Toaster (2021 Version)
Watch the video HERE.
This Person Picked the Wrong Car to Steal From
Watch the video HERE.
Harrisburg man who got high and naked during his first day at work can't beat indecent assault conviction
As he stumbled out of the bathroom, he grabbed a female co-worker from behind and kissed her neck. Then he took off his shirt and repeatedly tried to get the woman to kiss him as she yelled for him to get away from her. Get the full story HERE.
Man mistakes moon for UFO, calls police – listen
A man dialled 999 earlier this month to report a UFO in Canterbury before calling back to admit that it was in fact the moon. Get the full story HERE.
Waitress Quits Her Job On The Spot After Anti-Maskers Claim "Religious Exemption" At Denny's
A video of a Denny's hostess announcing that she's quitting after a group of anti-maskers came in claiming religious exemptions to mask mandates (of which there is no such thing) went viral as every working person lived vicariously through her. Get the full story HERE.
Anti-masker stands on Costco clothing display, makes false claims during megaphone rant, video shows
A coronavirus-denying Coscto shopper was filmed standing on a clothing display and spewing his anti-mask rhetoric into a megaphone at a location in Tustin, Calif., on Sunday. Get the full story HERE.
Video shows moment when bridge snaps, plunging beauty queens into pond
New viral video footage captures the dramatic — or hilarious, depending on your perspective — moment a bridge snaps, plunging 30 smiling Miss Thailand contestants into a dirty lagoon. Get the full story HERE.
NFL Commissioner Roger Goodell On Playing Through Covid-19: "We Do Think It's Safe To Continue"
Despite dozens of positive coronavirus tests and record waves of infection sweeping the country, a pause or shortening of the NFL season is not in the cards, Goodell asserted. Get the full story HERE.
Burping 999 hoax caller is jailed – for a second time
A man who had previously been jailed for repeatedly dialing 999 and burping at police call handlers has been jailed for a second time. Get the full story HERE.
Millions of women don't know where their own vagina is located
An estimated ¼ of US women don't know where their vagina is, according to a new poll conducted by OnePoll, which found that 46% of ladies couldn't point out the cervix, and 59% suggested a different body part when asked to identify the uterus. Get the full story HERE.
Man arrested for creating disturbance in backyard, assaulting officers in Naugatuck
Naugatuck police said they arrested a half dressed man for "humping trees," screaming, eating branches and assaulting officers. Get the full story HERE.
Florida Man Parks Smart Car in His Kitchen to Protect It from Hurricane Dorian
Patrick Eldridge of Jacksonville, Florida, drove his Smart Fortwo into the house as part of hurricane preparation this week. Get the full story HERE.
Florida man steals downed power pole, drives around with it on his car
A Florida man stole a downed power pole and drove around with it on the roof of his car in Hillsborough County, authorities say. Get the full story HERE.
Clip of pastor laughing that 'media said Joe Biden's president' goes viral
During a service this weekend at Lord of Hosts Church in Omaha, Neb., pastor Kenneth Copeland referenced the election, declaring: "The media said what?! The media said Joe Biden is the president" before exploding in uproarious laughter. Get the full story HERE.
Man who 'exposed himself' tells police: 'I was just airing out my penis'
A homeless man accused of exposing himself outside a shop told police: 'I was just airing out my penis.' Get the full story HERE.
Florida driver whips out handgun when asked about his penis size
A Key West man was so insecure about his manhood that he whipped out a gun when a motorist mocked his penis after asking why he revved his Jeep's engine. Get the full story HERE.
Nicola Sturgeon tells kids 'Santa is a key worker' after her top medical advisor warned of 'digital Christmas'
The First Minister joked National Clinical Director Jason Leitch would be branded The Grinch after he told people in Scotland to plan for a "digital Christmas" this morning. Get the full story HERE.
Man fires shots into home after baby was allegedly called 'ugly'
A man fired several gunshots into a home in Michigan, United States during a domestic dispute that a witness said started after someone's baby got called "ugly." Get the full story HERE.
'Election Stress Disorder' Is a Real Thing—Here's How to Know You Have It
People on both sides of the political divide are feeling tense, anxious, and overwhelmed right now. Get the full story HERE.
Man mauled by leopard behind Davie home; animal's owner charged
A man who paid $150 for a "full-contact experience" with a black leopard says he had to undergo multiple surgeries after he was mauled by the fully-grown animal in an enclosure behind a Davie home. Get the full story HERE.
Woman in Thailand dresses as zombie to sell dead people's clothes online
Thai online retailer Kanittha Thongnak has captured a market of thousands by dressing up as a zombie to sell the clothes of dead people in sales streamed live on social media. Get the full story HERE.
Man wearing Burger King crown yells N-word on JetBlue flight
A man in a paper Burger King crown hurled racist slurs at a fellow passenger on a New York-bound JetBlue flight, after accusing her of taking his seat and kneeing him in the stomach, videos show. Get the full story HERE.
Cops: Naked Teen Was Covered In Ranch Dressing
A naked Kansas teenager found covered in ranch dressing may be facing criminal charges following a series of bizarre events early Saturday morning, cops say. Get the full story HERE.
Need Some Beach Tips? Britney Spears Has Got You Covered
Britney Spears took to Instagram on Monday to share her top beach tips as Los Angeles continues to stay warm well into the fall. Get the full story HERE.
Elderly Indian man thought to be dead rescued after family put him in freezer
An elderly Indian man put in a see-through freezer box after his apparent death was pulled out alive — when he was spotted moving after 24 hours in his icy coffin. Get the full story HERE.
Local man stabbed after reported 'dance off'
Two strangers having a dance off ends with one of them stabbing the other. Get the full story HERE.
Dog eats woman's engagement ring during photo-op fail, alarming Reddit users
A woman has been admonished on Reddit for trying to pose her engagement ring on her dog's nose – and shouting in surprise when the pup swallowed the sparkler. Get the full story HERE.
Everything Went Wrong for This Weatherman & It Was Hilarious
"There's no weather today. It's canceled." Get the full story HERE.
Louisiana Catholic priest, 37, is arrested for recording himself having a threesome with two dominatrixes on church altar
The unholy trio was discovered by a passerby who noticed the lights at Saints Peter and Paul Roman Catholic Church were on after hours and called police. Get the full story HERE.
Investor finds $10,000 hidden in home, returns it to former owner
He found five envelopes packed with a total of $10,000. The money was hidden throughout the house, including behind a couch, behind an old photo on a wall and behind a phone on a wall. Get the full story HERE.
Jail Employees Face Charges After Using 'Baby Shark' Song to Punish Inmates
Inmates at an Oklahoma jail were handcuffed to a wall and forced to stand and listen to the ubiquitous children's tune on repeat. Get the full story HERE.
Convicted felon arrested after 4 attempted carjackings, causing crashes on I-4 in Polk Co.
Polk County Sheriff's Office deputies have arrested a suspect who attempted to carjack four vehicles in the Lake Alfred area and also caused several crashes. Get the full story HERE.
2 California passengers arrested after fighting with American Airlines gate member at MIA
According to police and the airline, the couple wanted to board the plane bound for Los Angeles, but they were told they couldn't get on, not because they weren't wearing masks, but because the woman wasn't wearing shoes. Get the full story HERE.
AJ knew wayyyyy too much about Helen Reddy songs
Helen Reddy dead at age 78. Get the full story HERE.
MTA workers had hidden 'man cave' below Grand Central tracks, IG report finds
Three MTA tradesmen allegedly boozed, napped and watched TV inside a secret "man cave" built below the tracks at Grand Central Terminal. Get the full story HERE.
Women charged in incident over mask requirement at Logan football game
One woman is charged with trespassing and resisting arrest after refusing to leave a middle school football game in Logan when she was asked to put on a mask and she refused. Get the full story HERE.
Ding Dong Lawyer Dinged For Showing Dong
South Carolina courts have disbarred attorney Jacob Leon Parrott based upon a history of sexual misconduct including indecent exposure and voyeurism. Get the full story HERE.
'No Accident': Conservative Pastor Says His Prayer Responsible for Ruth Bader Ginsberg's Death
Conservative Texas pastor Robert Henderson of Waco's Radiant Church said Sunday that Ruth Bader Ginsburg died because he prayed for it to happen. Get the full story HERE.
Florida man says school forced son to take off Hooters mask
A Florida man says he has no idea why his son's fifth-grade teacher forced the boy to change his coronavirus mask, which featured branding from the restaurant Hooters. Get the full story HERE.
Suspicious footage of a 'UFO' hovering over New Jersey, Boston and Facts behind the viral footage
Twitter went crazy after a video of an identified object, flying over a part of New Jersey, went viral on TikTok and Twitter. Get the story HERE.
YouTuber explains why he live streamed himself pooping on Nancy Pelosi's driveway
He said he did so as a "peaceful protest" — but admitted it was a "joke that got out of hand." Get the full story HERE.
Woman sentenced to jail time for attacking McDonald's employees because she didn't get a cookie
A judge sentenced a 24-year-old woman to 90 days in jail after she climbed through a McDonald's drive thru window and attacked three employees because she did not get a cookie. Get the full story HERE.
Guests horrified as a wedding descends into carnage with the bride brawling in a field & guests passed out on the floor
Get the full story HERE
Mike Tyson Told Joe Rogan That He's Gotten Erections Due To Being Aroused By Fighting Someone
Mike Tyson is returning to the ring, and with that we're getting another look at the mindset of one of the most feared boxers on the planet as he gets ready for his next bout. Get the full story HERE.
Woman's hand sanitizer use sparked a house fire
A mother of three from Austin, Texas is recovering after her house went up in flames when she said she used an off-brand hand sanitizer before she lit a candle at her home. Get the full story HERE.